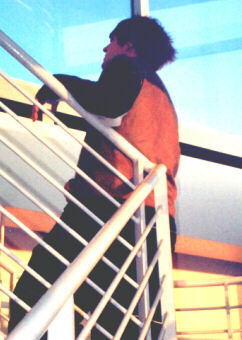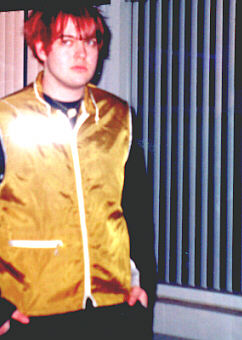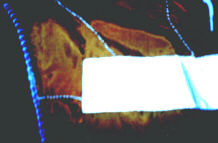 details of chest reflective panel and stitching.
Here, I model the second Hex vest, "Light Arc".

argh. I hate my scanner... the vest is actually a bronze-yellow, unlike the brownish green it appears to be in some of these pics.... The top right one, by the way, it the actual color of the vest.

Anyway... I took a jacket and cut the sleeves off, then secured the cut edges with stitching and duct tape. Then I sewed on a panel of reflective silver material. After that, I added stiching decor. The zipper on the pocket has a nice pull ring, but you can't tell from these shots...

To see an outtake, click here.

special thanks to Marie Chambers for taking the pictures.