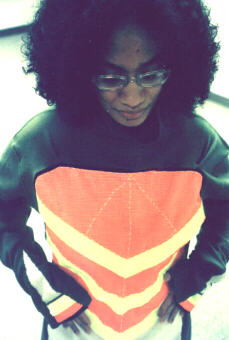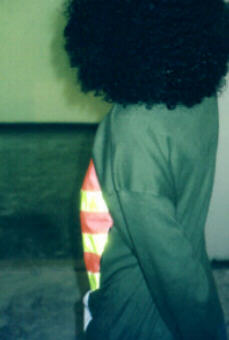 Marie and I model "Gamma, the third in the Hex turtleneck series. First off, I apologize for the bad scan quality on these pics. My older scanner is not compatible with Windows ME, so until I get a new interface card for it, I've been using my color copier to scan with...

Anyway, I took an olive green turtleneck and cut the front off. I took more parts of the saftely vest that I used for Alpha, sewed them onto a white towel, and then stiwched that onto the green shirt. I had actually started this shirt about 3/4 month before finishing it. I was having problems strategizing how to put the front panel on... Well, I got back to it after 2 or 3 weeks and did that, and then slit open the cuffs, widened them, and sewed in parts that I made from the towel and the vest.

As you can tell from the pics, the flourescent yellow parts on the shirt are highly reflective.

BONUS * * * WALLPAPER *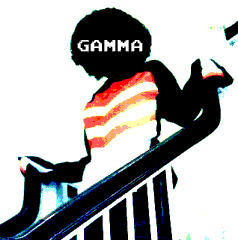 photos of Marie by me (Evan Hayden).
special thanks to Marie Chambers for taking the pictures of me.
special thanks to Kilian Garvey (in the bottom-left picture) for the use of his office, his DSM-IV, and him.